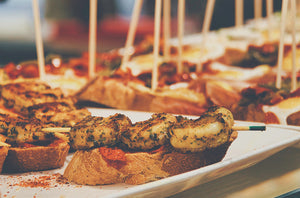 CHIPOTLE GRILLED SHIRMP ON A SKEWER
1 lb. Jumbo white shrimp, peeled
3-4 wooden skewers, 12 inches in length
1-2 cups Redbone Alley Chipotle Aioli

Prepare a piping hot charcoal or gas grill. Soak the skewers in water for 1 hour prior to preparation. Remove the skewers from the water then stick as many shrimp on each skewer as you can fit on there. Be sure to stick them through the belly side of the shrimp so the shrimp can lie evenly on the grill. Next, liberally paint the Redbone Alley Chipotle Aioli on both sides on the shrimp skewers. Place them on the grill for 2 minutes then flip them. Grill for an additional 1-2 minutes on the other side. Remove the shrimp from the skewers then pour the remaining Redbone Alley Chipotle Aioli over the top of them or use the remaining Aioli as a dip.

This is a perfect appetizer or party snack to be served with cool, frosty beer.
---