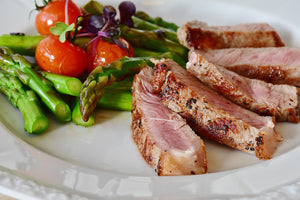 PAN SEARED ROASTED GARLIC TUNA STEAKS
4 Tuna steaks, 1 inch thick
1 Bot. Redbone Alley Roasted Garlic Aioli

Bring a large non-stick pan to a piping hot temp. Spoon a half of ounce over each side of the tuna steaks and add them to the pan allow them to cook for 2-3 minutes. Flip the steaks over and cook them for 2-3 more minutes on the other side for a great medium. (Cook time should be adjusted up or down if you like your tuna rare or well done). Remove the tuna from the pan and spoon the remaining Redbone Alley Roasted Garlic Aioli over the top of each fillet just prior to serving.
---