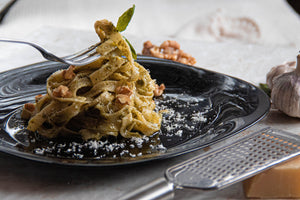 SHRIMP LINGUINE WITH LEMON PEPPERCORN SAUCE
1 Lb. Shrimp, medium size, peeled and de-veined
1 Bot. Redbone Alley Lemon Peppercorn Aioli
1 Lb. Dry Linguine Pasta
2 Tbl. Butter or Margarine

Prepare the pasta according to the package instructions being careful not to over cook it. Set the cooked pasta aside. In a skillet melt the butter. Toss in the shrimp and cook them over medium high heat for 2-3 minutes or until the shrimp begin to turn pink in color and their edges begin to curl. Toss the cooked pasta in with the shrimp and stir this about for 1-2 minutes more. Remove the pan from the heat and add the entire bottle of Redbone Alley Lemon Peppercorn Aioli to the shrimp and pasta. Stir the sauce well in with the pasta and serve immediately. Be sure to add the Aioli once the pan has been removed from the heat. The sauce may break when added over extreme heat. The heat of the shrimp and pasta will heat the pasta to the perfect temp.
---